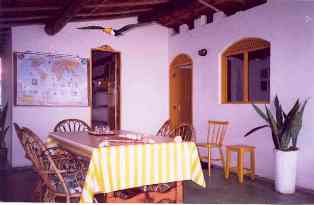 The small guest-house at the side of Kristina´s house, with an area of 20 m2,
has a bedroom with one double bed and a smaller child´s bed, a TV and a refrigerator.
The smaller entrance room has one single bed and bathroom with a shower. There is also another small room with a bunk bed.
Directly outside the house there is a covered area, a firewood stove and a garden.
On the veranda to you can hang up three hammocks to relax and enjoy the views of the sea.
There are plenty of books, toys and games available at your leasure.
Breakfast with homemade bread and fresh fruit is served in the outside area.. For other meals there are several restaurants in Redonda and Ponta Grossa.
There is a paved road and a protected car park beside the house.
Low season:
The price for one person is R$ 80/night; R$ 480/week; R$ 1440/month
For every additional person R$ 20/night; R$ 120/week; R$ 360/month

High season:
The price for one person is R$ 100/night; R$ 650/week; R$ 1960/month
For every additional person R$ 25/night; R$ 160/week; R$ 490/month

*High season during 2014 is considered from January to Carnival the first week of March, Easter, June, July, August and from Christmas till New Years Eve.